Fernie Volleyball Club was started in January of 2017,  although we are still a young club we have experienced significant growth. We are excited to provide athlete's between the ages of 11-18 the experience of playing what we believe is one of the greatest team sports.
FVC is registered as a not-for-profit society in BC. The club is managed by an engaged board of directors comprised of parents and volleyball supporters from the community. We also have a pool of certified coaches that lead our individual teams.
Our Mission
Our mission is to promote, develop and administer the game of volleyball to the youth of the Elk Valley & South Country. Providing youth with coaching that will develop skill and knowledge and foster the importance of sportsmanship and a love of sport.
Important Documents
Fernie Volleyball Club Program Registration Documents & Policies:
COACHES
We're always looking for more Volleyball enthusiasts to join the FVC coaching team. Please contact our head coach if you are interested.
HEAD COACH – Trent Mason
coach@fernievolleyball.com
Fully certified level 3 volleyball and basketball coach. A teacher with 10 years experience coaching basketball (US summer camps) and over 15 years of coaching volleyball with high school, club, provincial team (SK/AB) and college programs.
College experience:
(Keyano College. Fort McMurray, AB)
2 years playing
2 years asst. coach
1 year head coach women's
4 years head coach men's
2001 – Alberta College Athletic Conference (ACAC) All Conference player
2008 – ACAC North Coach of the year
2009 – ACAC Coach of the year
2009 – Canadian College Athletic Association (CCAA) Coach of the year
GIRLS COACH – Dennis Staples
I love Volleyball and always have. I played in High School and quite a bit throughout University (not on the Varsity team but at a competitive rec level). In the late 90s I coached a Sr. Boys high school team in Toronto (Lawrence Park Collegiate) for 2 years and helped the team qualify for Provincials for the 1st time in the School's history. In Fernie I've volunteered for a number of years to help with skill development of younger athletes running morning sessions for Gr 3s to Gr 6s at EIDES and helping with various camp programs. I stay involved coaching school volleyball at EIDES and FSS. I have my Volleyball Canada level 1 coaching certification and from 25+ years ago I'm a Tennis Canada Level 2 certified instructor having coached kids/adults for many years and having played on the Varsity tennis team at McMaster University for 3 years. My 3 daughters are all very volleyball keen so I hope to be coaching for many years to come.
GIRLS COACH – Sage Stevenson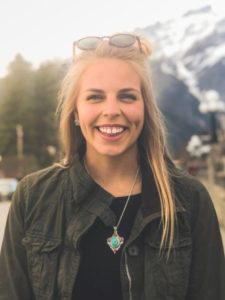 I was born and raised in Southern Ontario, after graduating university I chased my heart out to the mountains to discover the beauty that western Canada has to offer. Upon that journey I stumbled across this amazing little ski town Fernie, which I now consider my home!
My passion for volleyball was discovered on beach courts with my family as a child. From there I played on the volleyball teams throughout elementary & high school, and at age 12 I began playing for the Barrie Elites Volleyball Club.
I took a break from competitive volleyball during my first year of University at Carleton in Ottawa, Ontario to focus on my studies. I decided to switch to Lakehead University in Thunder Bay, Ontario to complete my undergraduate degree the following year, and I trained with the Varsity Volleyball team there for 1.5 years. Playing and training for volleyball helped me discover so much about myself, but it was at that point I had come to understand my passion for not only playing, but coaching and education as well. I decided to take on a role coaching Youth volleyball camps and I remained involved in this for 3 years throughout University working with players ages 9-15. While coaching, I continued playing in women's & co-ed leagues. I have a passion for this sport, and I do my greatest to ensure there is a beautiful mix of positivity and intensity on the court. I am truly excited to take on my first experience as a Head Coach with the Fernie Volleyball Club.
GIRLS COACH – Andrea Reed
I found my love for volleyball while in Elementary school. From there I was hooked on playing the sport and continued to play through High School and then in adult leagues and for fun. My coaching career started while still in High School, I teamed up with other coaches to assist younger teams, and then moved to Head Coach. I coached many years at Sparwood Secondary and the last five years I have been at Fernie Secondary. I plan to remain coaching for many years, since my hope is that my daughter will find the love for the sport. I am a level two certified coach and enjoy brining my knowledge and passion for the game to my practices and onto the court.
GIRLS COACH (2017-2018) – JL Winters
Upon graduating from high school, I enrolled at the University of Lethbridge with the dream of becoming a teacher. After playing volleyball extensively throughout high school, I couldn't completely separate myself from a sport that I was previously so involved in; I immediately decided to shift my focus from playing volleyball to giving back to a sport that I loved so much. That was over 12 years ago, and I have been coaching girls volleyball ever since. As a fully certified Level 1 Coach, most of my coaching has occurred at the high school and U16-U18 club levels. I have coached hundreds of athletes from all walks of life, travelled with teams across the country (and the continent), experienced amazing venues and games, and I still love this sport as much as I did when I was first introduced to it.